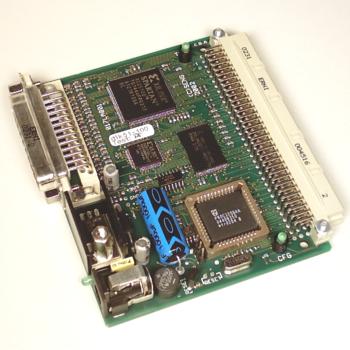 dlk51 - FPGA, 8051 CPU and PC link on board


You know the normal, in large varieties available 8051 based microcontroller boards? Inflexible, poor performance?

This board can do a few things more:

FPGA
PC interface
several independent program memories (4 x 64KByte)

two independent FPGA configuration memories

Use your 8051 knowledge effectively, release the CPU from time consuming computations - do them via hardware within the FPGA. Add special peripherals (like an array of 24-bit up/down counters, incremental decoding or some co-processors...) to the 8051.

The ' dlk51 ' is a complete ´dlk´ based system, including integrated power pack at a size of 8x10cm. It offers a stable, 8051 based starting point, for the realization of a reprogrammable system.

complete package with hard and software
all reconfigurable design
´all in one´ package for C, VHDL, logic and microcontroller, application and training

Hardware ´dlk51´:

FPGA xc2s50 (optional xc2s100)
PLD xc9572xl
8-bit 8032 CPU with 11MHz0592 clock

serial RS-232 interface connected to CPU
16Kbit I²C EEPROM connected to CPU
CPU can be operated in bus or I/O mode
external CPU bus connected to the FPGA
512Kx8 flash memory for CPU and FPGA
two LED's for debug and indicator purposes
LCD interface
reset monitor IC for undervoltage identification and external reset
complete 3V3 Design
2 independent FPGA configuration files in the flash memory, select boot memory via jumper
4 independent 64Kx8 CPU program files in flash memory, selectable via ´dlk51´ software or FPGA configuration
PC or 8032 microcontroller can work as masters on an internal bus
fast data transfer (500KBytes/sec, typical) to/from PC via PC parallel printer port interface, connector D25 male

integrated linear power pack, input voltage 8-12V DC/12V AC/1500mA (optional 5-12V DC/800mA) with connector type DIN45323
all signals available at 96-pin connector DIN 41612

extension boards can be attached ´inline´ or as stack
printed circuit board size 80x100mm
approx. 92% of the internal xc2s50 FPGA resources (without PC interface 100%) + 32 unresticted I/O´s available for user applications

emulation mode for Xilinx JTAG download cable (DLC5) loadable via FPGA

universal digital logic kernel for applications, test, development and training

Extent of delivery:

hardware ´dlk51´

CD-ROM containing software ´dlk51´, manual in PDF format, schematic in EAGLE format, applications including source code for FPGA and 8051
documentation in english language
PC interface cable, D25male/D25female, 1:1

optional: wall plug-in power supply