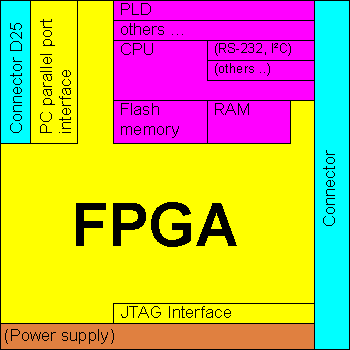 dlk - digital logic kernel


The ´digital logic kernel´ (´dlk´) is an easy applicable system construction kit for developing FPGA (Field Programmable Gate Array) based digital systems. A bootable system normally consists of following components:

FPGA
CPLD
CPU
Flash-memory
PC-interface
For development and production of ´dlk´ based FPGA systems no programming devices or pre-programmed or special parts are needed. The system includes a standard interface to the PC for fast communication and comfortable administration purposes.
Not necessary components and characteristics need not to be implemented. A minimized system consisting of an FPGA with integrated PC interface already represents an an efficient PC peripheral.
A PC with a parallel printer interface is the only tool needed for designing, programming and maintenance of a ´dlk´. The ´dlk´ is build with semiconductors from Xilinx and its development software ´ ISE ´. Optimized for Xilinx Spartan-II FPGA's.

Open system,

source code completely available

.